How To Get A Job In United States
The Step by Step Guide to Getting Your Job in the USA
Five years ago, I set a challenge for myself to get professional experience in the USA for one or maybe even several years.
After some research, I realized that I couldn't work in the USA without a work visa. To get this work visa, I needed to get a job. Thus, I needed to be sponsored for a work visa.
The first thing to do for anyone looking to enter the US is to find a job. Then, you will need to find a sponsor for your visa. Once that is done, you will be good to go and can move to the US.
This guide will tell you how to get a job in the USA that will deliver a visa sponsorship fitting your situation, profile, citizenship desires, and expectations.
So, let's see how you can get a job in the USA!
Is getting a job in the USA easy? There are some difficulties you may encounter:
Since so many people are looking for a job in the USA, the rules have become more strict regarding who can enter and why.
After my own experience, I have seen hundreds of my followers who face four major difficulties:
Difficulty 1
The employer wants to hire you, but they tell you that they cannot hire you before you get a visa…
Difficulty 2
You find your dream job. The employer tells you that they cannot or do not offer any sponsorship for that job…
Difficulty 3
You are not able to connect with employers! You can't even get a reply from them.
Difficulty 4
Last but not least, you have plenty of interviews, but even if you don't make your visa request known, you still can't receive a reply from your interviewer.
Finding a job in the US isn't so easy-peasy, is it?
In any of those four cases above, you are going to get nowhere! Actually, 90% of failures in getting a job in the USA as a foreigner come from one mistake. And if you encountered the difficulties above, you might be making this mistake: applying without targeting.
Even before thinking about building your American resume and applying to jobs opening in the USA, you have to target the right open jobs and companies for you.
But targeting jobs in your field is not enough! You need to understand that up to 5% of companies in the US may sponsor you for a work visa. It may be even fewer, depending on your situation, profile, as well as the job opportunities you can get with it.
So, first, let's dive into what you want, and then what you will get depending on your situation, profile, and expectations. This is the foundation of your American project.
Based on this, you will then be able to build your application, target the right companies, and approach them effectively.
But before going any further, I want to tell you something…
What You Want Might Not Be What You'll Get
You might not want to read what I have to say next. It might offend or challenge your expectations.
Landing in the USA with a work visa does not mean you will get rich or stay in the States for life.
What we are going to see is the reality of the US market as it is today. You might not like it, and unfortunately, if your profile and expectations don't match this market, it's not going to happen. Sorry to disappoint you.
Maybe it will be easy, and maybe it will be impossible. It all depends on what you want and expect. Just be prepared to adjust your expectations.
If you don't want to accept the reality and adjust your expectations, you have only your own decisions to fall back on. The choice is ultimately yours. You must remember that it's your life. My choice was to live in the USA, and I now live an amazing life there. It's not because I'm lucky; it's because I reviewed my expectations and accepted the reality. That's it.
If you are not ready for such a big step, it's time to seriously think that you may misunderstand exactly what the American Dream is. And the United States might not be for you, after all. The choice is yours!
The way things are, you need to fit the mold, or you are out.
As unfortunate as this fact is, you need to understand it before going any further. I don't want to waste your time. So, if you continue reading this post, I assume that you understand the implications of this process. 
Now, let me explain how to get a job in the USA!
1. What I Want
First of all, you will need to define your career plan: What do you want to do?!
What kind of job do I want to get?
Some of you have a clear goal, while some of you don't.
If you know what job you want in the US, that's awesome! You already know what to search for, and you know exactly what type of job opening you want to apply to. Your career plan is clear for you, and you can skip the rest of this section and go on to "What I Will Get."
If you don't have a plan yet, please don't tell me you are ready to do anything to be in the US. That is NOT a career plan! I have heard that too much for my taste. I know your goal is to be in the USA and get experience from it. But first, you need a CAREER PLAN!
I was in the same situation when I was looking for a job in the USA. At first, I was open to everything and not only jobs in my field. I applied for jobs in sales, marketing, etc., and I discovered that I was going nowhere.
You need to focus on what you love to do and the skills you have. Where do you see yourself working? What skills do you have? Which ones do you need to reinforce?
How to get a job in the USA with a career change:
If you are tired of what you are doing right now, a career change plan may be the thing for you. But you need to figure out the journey you want for yourself to achieve your final goal. Switch to a position that requires your skills or something new you want to learn; this will help you to continue your journey until you reach your final goal.
Keep your goals and motivations for your future and professional path in mind. They should be achievable based on your expertise and abilities.
You might need to focus on setting academic and work-related goals so that you can put your knowledge and abilities to good use. Although volunteering requires time, the commitment can be a fantastic choice when you want to master the skills you haven't been able to make use of in your workplace.
2. What I Will Get
Now that you know what you want to do, you should check if it fits the US market, especially for foreigners. Remember, you don't have a work visa yet, so you cannot apply everywhere!!
To know if your profile and expectations fit the U.S. market, you need to find out what visas for which you may be eligible, and then find the companies that have a job opening in your field that can sponsor you for this kind of visa!
The fact is, at this point, it's vital for you to know what type of visa for which you are eligible. Why? Because the target company and the approach with the company will be completely different depending on your ideal visa, your situation and profile, and your career plan you've just defined.
What is my ideal future visa?
Work visas are incredibly complex. Your ideal takes into account a lot of your situation and profile (age, citizenship, marital status, length of stay, area of activity, industry, years of experience, skills, English level, etc.).
Your ideal visa depends on:
Citizenship: Your home country may or may not be in treaty with the USA. If it is, you may get a very specific type of visa.
Graduation: If you have more than five years of experience OR an upper-secondary diploma, it might be easier to get a visa.
Career: It depends on the company you are currently working for. Some companies may want to transfer you to the US.
Skills: It also depends on your area of expertise and your industry! Depending on these, you could get a specific visa.
Duration: How much time do you want to stay in the US? Some visas are for several months; others are permanent.
To make the process faster and to be sure about which visa fits with the criteria above, just take this Visa Simulator test!
I worked for several months to build and polish this visa algorithm. So, let's have a try!
Be as specific as you can, and don't lie in your answer! If you do, it will give you the wrong result. Be as fair as possible! If you're honest, it will deliver the right visa for you. 
If the quiz returns a visa to you, CONGRATULATIONS!!!! You're on the right path! But before claiming victory, be aware that it may not necessarily be easy. You might even have to make some concessions. But let's talk about that later in this article.
What if the quiz returns no potential visa?
Unfortunately, that means that it's quite impossible for you to have an experience in the USA given your current situation and expectation. It means that what you want and what you can offer don't fit the US requirements.
As I told you earlier, if you want it to work, you will need to adjust your career path or expectations according to the reality. If this is the case, I invite you to contact me directly. Then, I can have a look at your profile and situation. At a glance, I will be able to give you a status regarding what effort you need to make and what expectation you should change to fit the requirement.
If you still have no potential visa because you don't want to change your expectation, as I told you, it's a dead end for you. I cannot help you anymore, and it's useless for you to continue reading this post, because further information will no longer be valuable. So, don't waste your time. I encourage you to seek resources elsewhere, if you should find no luck here.
Cool beans! Once you know your potential future visa, it's time to discover open jobs that are right FOR YOU! But before that, check that your diploma is recognized in the USA. 
Is my diploma recognized in the USA?
Depending on the field you are looking for, you might need to have a degree, diploma, or certificate. In some cases, the diploma from your country can be enough; sometimes it is not. It depends on your field.

For certain trades, such as healthcare — doctors, nurses, specialists, etc. — you will need a degree equivalence or will need another degree.
If you are a nurse, you will have to pass an equivalent exam. If you are a physician, general practitioner, or specialist, having equivalence is not enough. You are required to get a valid license for the state in which you want to practice.
If you want to work in a pharmacy in the United States, you also need a diploma equivalent. If you are a lawyer, you will need to apply for a license to practice with the State Bar (US). If you want to become a real estate agent, you also need a license in the state in which you want to practice.

So, if you fall in one of the cases above, you must start searching for your diploma equivalence before looking for a sponsoring employer.

In all other trades, unless I'm mistaken, the good news is that there is no need for equivalence for your degrees! But you can check here for more precision.
In our situation, we did not need equivalence, and that is also the case for marketing, communication, sales, IT, HR, finance, hotel/catering, etc.  

When preparing your visa application and your diplomas, an official translation into English will be required. But for now, you do not need to worry about that. 
So, now comes the juicy part of your job search!
Where can I find open jobs?
Keep in mind that 95% of companies in the USA will definitely not offer you a visa sponsorship because, as we have seen before, they are quite satisfied with local hiring. So, even if you find a great open job in your field, with a perfect match with your profile, it's not going to work 95% of the time! Try whatever you want, but the company won't sponsor you for a visa! This is generally because they can easily find someone like you locally, or because you are not eligible for the visa they can sponsor.
Think about it. Why they would mess with visa paperwork and with a pure stranger from someplace unknown when they have local hires available without paperwork complication?
So, first, don't waste your time applying for every job you find on the Internet, even if they all seem like a perfect match for your skills!!!
Max had the same issue when we were looking for a job in the USA. He had interviews at an American company in Denver. But when it came to the visa topic; the company declined: no visa sponsorship, that's it.
So, why not target only those 5% of companies that are accustomed to hiring foreign individuals and those who will go through with your eligible visa request?
Do the math. It's going to save 95% of your time!
If you were wondering how to get a job in the USA, you have now started to get a firm idea of how to do it. What you need to do is to target only sponsor companies:
That can sponsor or hire you with the kind of visa for which YOU are eligible
With open jobs in YOUR field
That match 80% or more with YOUR motivation and skills
Does it make sense to you?
You will find open jobs in your field for companies that are used to sponsoring or hiring under your visa
USponsor Me only contains sponsor companies. We spent several months building this search engine! And you will see that by using it; you can filter to find everything you need to find your job in the USA!
Depending on the visa for which you are eligible, you might also need to filter only companies that sponsor people in your citizenship. If you took the quiz, I sent you an email with your kind of visa, letting you know whether you need to also filter your citizenship or not. 
So, once you've reached the USponsor Me sponsors search engine, you should filter on:
Your potential future visa (+ your citizenship if applicable)
The job title you are targeting (+ industry if applicable)
The location you are targeting (if applicable)
The search engine will return all the best jobs in the right companies for you regarding your visa, location, and what you want to do. And it will search only among sponsors' companies! It's actually the best fit between you and what the company needs.
What if it returns no jobs, or only a few jobs?
If you don't find any jobs, it can actually depend on several factors:
Your visa. In this case, you should adjust your expectations as I said before and target another visa. Reach out to me, and we can talk more about this.
The position you are looking for doesn't exist in the US. It happens!! In that case, you will need to do some research and define which job title is the most effective regarding your profile and expectations.
You may need to do something extra in the app, as it's not yet quite effective. But don't worry, as I can help you with that for sure. 
There are no open jobs in your field. It seems that your field is not in very high demand in the USA. In this case, the USA won't be easy for you. But before resorting to a failure, you should be sure first to go through all of the above situations to make sure you've prepared yourself the best you can.
If it returns lots of jobs, let's dive into it!
Have a look at them, and add in your favorites. Only choose jobs that fit you 80%!
sponsor Me is not yet perfect. Sometimes it's possible that a sponsor company doesn't sponsor for some time or makes exceptions for specific jobs. You know, even for a sponsor company, they need to have a minimum percentage of American employees. So, you may see job offers written as "no sponsorship available." If this is the case, just ignore the job offer, and continue your selection with other jobs.
Be careful! Depending on your visa, you might not need the company that sponsors you for a visa, as a third party can sponsor you, too! If you took the quiz, you should have received an email with your visa result, the advantages and disadvantages of it, and an indication of whether you need to be sponsored by a company.
If you don't need sponsorship from the company, the mention of "no sponsorship" doesn't apply to you. 
On the contrary, if it's explicitly mentioned that the company doesn't undertake your kind of visa, don't waste your time applying. These jobs are simply not for you.
We are working hard to exclude all jobs that are not subject to sponsorship and enrich our database with jobs with guaranteed sponsorship.
If it returns lots of jobs that aren't actually in your field.
If it returns results, but they aren't compliant with what you are looking for, please email me, and I will be more than happy to help! sponsor Me is not yet perfect. I know sometimes it can be hard to navigate. We are working hard to soon release a new version that will make the job search much easier for you! It's our plan by the end of this year. If you are subscribed to the newsletter, you will be notified once the new USponsor Me version will go live. 
Targeting is the foundation stone for finding your job in the USA. However, it's the first step of a long quest! What you now will need to focus on is your resume and cover letter! Here, you have several American-style templates you can use.
Get in Touch with Employers!
Now, you need to think about your approach strategy! The art of contacting an employer when you are looking for work can be tricky. But it's not anymore if you know exactly how you can proceed, and when.
As a reminder, before continuing your search to find a job in the USA, you need to:
Have a firm idea of what job you are looking for
Know the kind of visa for which you are qualified
Be sure your diploma is enough to practice your job in the USA
Target only companies that are used to sponsoring the kind of visa for which you are qualified
Have a strong resume, cover letter, online presence, and plenty of recommendations
Once you have everything to start your job search actively, here are the 4 strategies you should use:
Job Applying – when you apply to online open jobs
Spontaneous Application – when you send your application to a company with no current open jobs
Through Your Network – when you are recommended by someone you know
Direct Approach – when you directly contact the right internal people without knowing them
So now, let's dive into these four job search strategies, and decide which one you should use. It's time for you to step out of your shell and get in touch with employers!
Job Applying
This is the strategy you know the best and the one you use the most. However, it can be a huge waste of time if you don't use it well.
The biggest mistake you can do is to apply for all job openings you see, and everywhere. However, I remind you that you are a foreigner, and you need a visa! And only 1 in 16 companies in the United States hire and sponsor their employees for a visa. Additionally, sponsor companies cannot technically sponsor for all kinds of visas. And on the other hand, you cannot be sponsored for all existing types of visa.
It's like looking for a needle in a haystack!
Applying to open jobs posted on general job boards means that you are in competition with others, especially with locals, who already have work authorization.
Even for Americans, it's hard to get a job by applying online. Every year, more than 100 million people are looking for a job in the USA. Only 20% of jobs are posted online, and 75% of candidates apply online, exactly like you do! It means that for each job ad, the company will receive an average of 250 applications. That's why the ATS (Applicant Tracking System) exists! During your application submission, you will often be asked: "do you need a visa sponsorship now or in the future?" and/or: "do you have a work authorization?". If you genuinely answer, you will be blocked by the ATS automatically. It will begin to feel like you applied for nothing!
So really, what is your chance here?
You can actually avoid that mistake, and job applying can be a great strategy if you do it correctly.
Let's take the example of Max.
Max found his job in New York City by applying online directly to the company website. But before doing it, he saw this job ad on the website "Pôle Emploi International," the French international job center website.
This means that the company was looking for a French guy to transfer to its subsidiary in New York City. In that case, Max was not in competition with locals. Therefore, it didn't ask him if he needed work authorization. Secondly, this company was a sponsor, and they were able to sponsor him with the correct visa for which he was eligible. And finally, this job matched more than 80% of his profile. So, guess what? He got the job.
I know you won't find many job ads on job center websites for international positions. I didn't find something for myself. But, you have another website that contains open jobs with guaranteed visa sponsorship according to the visa for which you are eligible and your citizenship, if applicable. This website, as you know it, is called USponsor Me. 
We now display job openings with guaranteed visa sponsorship. But be careful! Again, the job should match with the visa for which you are qualified! Please run the Visa Simulator before going ahead.
On USponsor Me, you have 2 kinds of job openings:
Job ads from companies that are used to sponsoring the visa. However, you are competing with local candidates.
Job ads from companies that are specifically looking for a foreigner to fill a position that can offer you visa sponsorship. It means you are not in competition with local candidates.
Does it make sense?
To switch and see those two kinds of job ads, use the toggle "Visa Guaranteed" in the search fields. If the toggle is on, it means you see the jobs especially for foreigners with Visa Sponsorship Guaranteed. If it's off, you will see all jobs, even the job openings for which you're in competition with local candidates.
And guess what?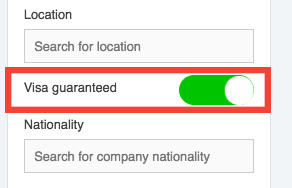 Your job search strategy will be different depending on whether you find a job ad with guaranteed visa sponsorship or not.
For jobs that don't require you to compete with locals, go ahead and apply! For jobs that do require you to compete with locals, stay away from applying online to medium-sized or large companies. This will be a waste of time. In that case, I strongly recommend you to use the Direct Approach strategy, which we will see later in this article. Small companies don't use any ATS. So, you can still have your chance with them by applying online, but you also need to contact the recruiter directly by email or by LinkedIn, letting them know your extra motivation and why you are the right person for the position!
Warning! If you get a positive response before even your first exchange with this person, make sure you get your visa pitch ready. You should correctly react once you speak about it with the company. Don't let your chance fly away!
Before you apply, scope out the company and its need, and see what you can learn!
Avoid all those mistakes you make when you apply. It's VERY important!
Also, you know that you need to adjust your resume and cover letter for each job you apply to.
If you really want the job, but you feel it's hard for you to identify transferable skills and match those to the organization and the role, the "let's apply and see" won't work for you, even if you are not in competition with locals. In that case, I strongly recommend you also directly contact the recruiter of the company to express your motivation for the job. Or, even better, use the direct approach strategy we will talk a little bit later.
If you don't find any open jobs with Visa Guaranteed, dont panic! You have three other job search strategies you can use. 
I will detail the second one, which is a spontaneous application, and the way you can use it efficiently.
Spontaneous Application
Keep in mind that 80% of open jobs in the USA are never posted on job boards. Along with applying to open jobs with Visa Guaranteed, I recommend that you send smart, spontaneous applications. The advantage is that you have no direct competitors at all!
I found my job in New York City through a spontaneous application, but in a smart way.
I first sent hundreds of spontaneous applications to companies related to my field with a quick cover letter and my resume. It didn't work at all; I received one response, and it was negative!
I then found another way. I noticed that every week, I got contact requests through LinkedIn and Viadeo (a French professional network like LinkedIn) from recruiters. If they wanted to connect with me, it meant my profile was interesting for them.
Then, I did some research and noticed that some of those contact's companies were also based in the USA. So, I gave it a try. I just sent quick messages to them with no resume and no cover letter in an attachment. I got an answer from one of those messages, and I got the job in New York City!
And guess what? This company was a sponsor company that was used to sponsor the kind of visa for which I was eligible.
In order to not waste your time, I recommend you only send smart, spontaneous applications, just as I've done.
To do so efficiently:
You need to have a strong LinkedIn profile (and a profile in the most-used professional social media platform your country) to attract recruiters.
You will have to accept connection requests from recruiters.
Once you are ready, retrieve all recruiters you have in your contacts that you don't know, and research their companies on USponsor Me, making sure to record their company name. If the company is displaying on USponsor Me, it means it's based in the USA, and it also offers sponsorship!! Now you need to filter for the visa for which you are eligible and see if it's still here.
If you receive results like mine, you are on the right track! You can contact this person and ask them if they have an opportunity for you in the USA. 
Warning!
If you get a positive response, before even your first exchange with this person, make sure you have everything you should know about your appropriate visa sponsorship. You should correctly react once you speak about it with the company, and don't let your chance get away!
If you do not find any recruiter companies in USponsor Me with the kind of visa for which you are eligible, just keep your LinkedIn profile updated and improve it to attract more recruiters. Once you get a connection request, do your research and go ahead!
Otherwise, don't waste your time with the spontaneous application. It's better to use your time with another job search strategy that will work best for you.
Let's see the next job search strategy you may know: networking.
Through Your Network
I will go over the importance of networking in the US and how to take advantage of your own network.
Even if you think you don't have any network in the USA currently, please read the post on how to use your network. It happens a lot with my clients when I say "network." Each time, all of them tell me they don't have one in the USA. Each time we go through the exercise, and some of them get great opportunities with this strategy. Even Max had a nice opportunity in Denver, even without knowing someone based in the USA at the beginning.
So don't skip this step!
Networking starts with a mindset and an intention to discover, explore, and be open to what you may encounter. It's about helping others and helping yourself.
Furthermore, it's not about trying to reach as many strangers as possible, even if they are in your contacts. This is almost as ineffective as applying directly to a job posting that doesn't fit you. Networking is about meeting people you do know who can both vouch for your past performance and will recommend you to others. So, it's not only about the people who know you personally; it's also about the people you know who can refer you to what matters. They might even be able to help you secure an interview for an open job in the USA for foreigners.
Without a doubt, one of the most effective, and most underutilized, methods of obtaining employment is through personal networking. The network is a critical factor, especially in American culture.
Go to the end, and you will be sure you did the best for yourself with this strategy. If you don't grab any contacts in the USA like this, let's continue with the next job search strategy: direct approach.
Direct Approach
The is the last, but not the least approach! This is typically the strategy that you know the least. But it's also the one, in fact, that's much wider than networking, and it's almost as powerful as the networking strategy.
Let me explain:
Networking is the best strategy to approach internal contacts from someone who recommended and introduced you.
The Direct Approach is actually using the same fact: directly contacting internal contacts. However, at that time you won't know the person before contacting them.
Finding and contacting contacts inside your target industry and companies is an excellent strategy. They can actually provide you with inside information on available jobs at a company. Indeed, they can give you precise information on the hiring process and what it's like to work at the company.
However, to do it efficiently, you won't contact everybody, everywhere.
Do you remember when we talked about job ads from companies that are used to sponsor for the visa on USponsor Me earlier in this article? There are open jobs that put you in competition with local candidates.
So, here we are! In this strategy, you have what you need to target!
Likewise, you will be able to consult open jobs so that you can choose the right company that matches 80% of your profile. You can also filter and see in priority companies with a good Visa Chance rate, regarding your profile and dependent on your visa strategy.
The more targeted you are in your search, the more you can concentrate on the opportunities in the field of your choice, and the more effective you will be in finding a job.
This will make it so much easier to meet your goals for finding a job in the USA!
In this case, you won't apply online. What you are going to do is target relevant internal contacts to this company, contact them, and establish a relationship with your new contacts by getting them on the phone.
Your goal is to know the biggest challenges of the company in your field, and by demonstrating that you can help, you'll be introduced to HR for going further in the recruitment process.
It's like taking the back door, a shortcut actually.  I'm going to write a dedicated article on this approach very soon!